Melbourne Cup favourite Admire Rakti tragically died in his stall straight after the race
Admire Rakti appeared agitated before the race. The jockey complained the track was too hard for the horse.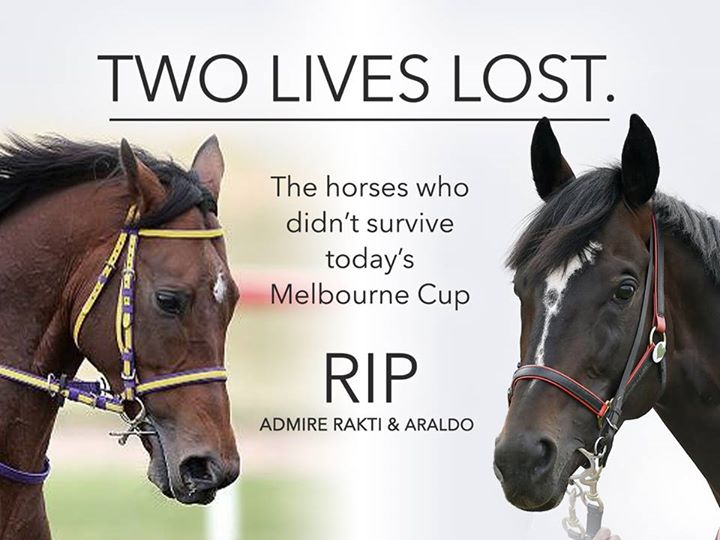 The dark side of horse racing. Why the race of two Melbourne Cup runners ended in traged
Admire Rakti, Melbourne Cup favourite, dies
AUSTRALIA'S most glamourous race has been overshadowed by tragedy for the second year in a row after favourite Admire Rakti died post-race and another runner fractured its leg.
So what happens to these horses? Are they pushed too far? And why can't they be saved?
As millions of Australians popped bubbly and celebrated their race winnings — or losses — after the Melbourne Cup this afternoon, Admire Rakti started badly shaking before collapsing and dying in its stalls.
TRAGEDY AT THE MELBOURNE CUP
At the same moment, Araldo, which finished 21st, was left fighting for its life after it shied at a spectator's flag, jumped a fence and fractured a cannon bone — a large bone in the lower leg
It followed tragedy last year when Verema also shattered her cannon bone during the Race That Stops A Nation and was promptly put behind a green screen and killed on the track.
Gold Coast Equine Centre vet Charlie McCormack said mystery still surrounded the rare circumstances of Caulfield Cup winner Admire Rakti's presumed heart problem.
He said the horse most likely suffered a rupture of a major blood vessel in the heart or lungs, not a heart attack, during heavy exertion in the 3200m race.
"The fact the horse stopped racing three quarters of the way through but still made it back to the stalls indicates it was probably a ruptured blood vessel. If it was heart attack it probably would have died on the spot," he said.
LAST MINUTES: Zac Purton and Admire Rakti leave the track after finishing last during the Emirates Melbourne Cup. The racehorse died moments later (Photo by Scott Barbour/Getty Images)
"Heat stress can also affect horses in severe and acute ways…
Read more:.
http://www.couriermail.com.au/news/the-dark-side-of-horse-racing-why-the-race-of-two-melbourne-cup-runners-ended-in-tragedy/story-e6freon6-1227112579156
Related articles